Text by Barry Thompson
Set to Pounce
Wow, what a ride! That is the best way to describe how I felt after coming off a rough Auckland Harbour reviewing the Fat Cat 5000 prototype.
The marine weather forecast said it was a southerly 15 knots with gusts to 18 knots, a swell of 0.5m and a fetch of about 0.3m. Simply put, it was bloody rough, with short seas, white capping and not the sort of day you would generally pick to go boating. In my experience, most 5m tinnies would find this sort of water pretty ugly when it comes to the comfort of ride and handling of the boat. Not so the Fat Cat 5000. It loved it. You may have already guessed by the name that the Fat Cat 5000 is a power cat, and this was just the type of water Blair McLay designed it for.
The hull shape is semi asymmetrical, starting with a deep vee forward and tapers to much flatter, more horizontal inner sections aft. This is done to create more lift and ride higher, with enough planning surface to slip up onto the plan effortlessly.
I was super impressed with how the Fat Cat 5000 turned so flat in the rough water, and we took on minimal spray. Powercats, depending on their hull shape, have a distinct lean outwards or inwards when turning, but the Fat Cat 5000 did neither. Flat and stable, with minimal cavitation and only a slight drop in speed. I would love to give the boat a thrashing in the calm water. The boat is very stable at rest, and even with three of us standing on the wide side deck, the heel was minimal.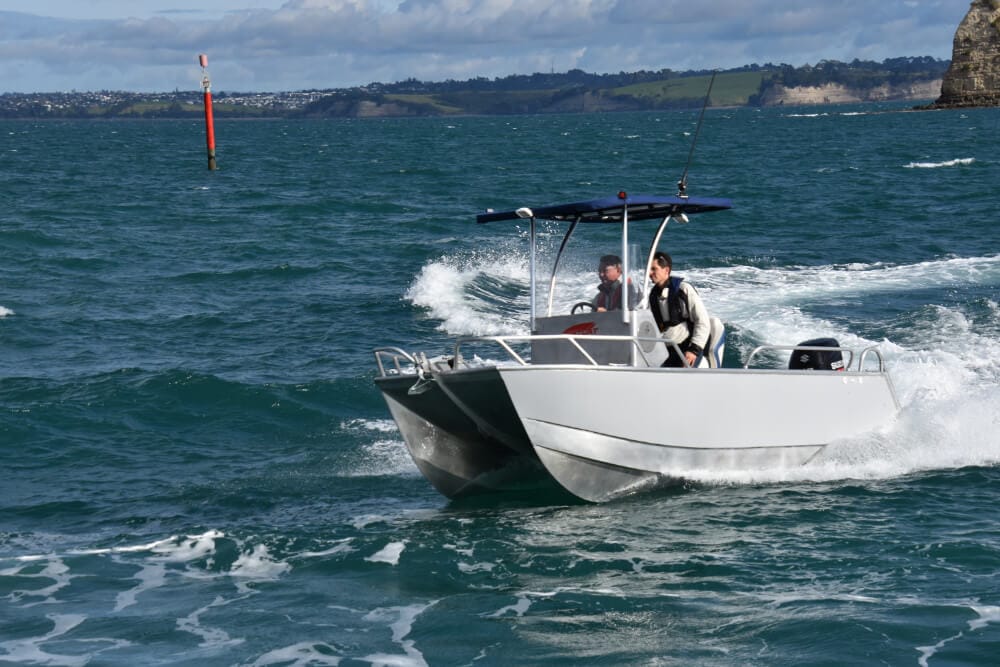 While power cats are traditionally designed for twin engines, the Fat Cat 5000 runs a single outboard in the centre. To avoid cavitation and get clean water to the propeller, Blair designed a significant central pod that seems to work exceptionally well.
The Suzuki 140 was probably more power than the Fat Cat 5000 needed, and while we never had any calm water off Gulf Harbour to do our fuel/performance tests, I did manage to crank it out to 33 knots on the GPS in a short following sea. Most of the time I was able to maintain around 20 knots and probably could have gone a little faster. Acceleration to max rpm was very quick.
The range is a single outboard 80hp-140hp, with a 100hp recommended by the builders as the ideal power option.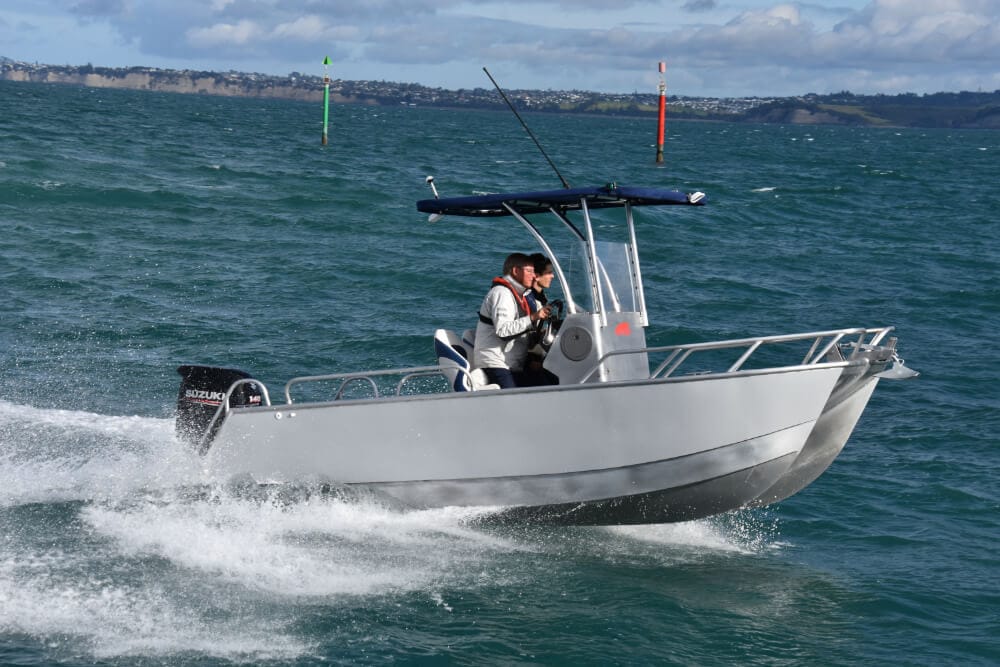 Plastic to Alloy
The Fat Cat 5000 is the builder's first foray into aluminium, with all other Fat Cats built using rotationally moulded polyethelene.
"We were getting a lot of enquires for a larger version of the Fat Cat range, but above 5m, you are somewhat limited with what you can do, using a rotationally moulded process, so we needed to look at an alloy alternative", says Blair.
He added that one of the significant issues was getting enough stiffness in the hull panels. That was something he felt wasn't efficiently or cost-effectively achievable in a larger rotational moulded boat.
"The first boat is the pre-production prototype and has been built to test the hull shape, design and layout of what we see as being the first in a range of boats", says Blair.
There is a 5m and a 5.5m planned, and if the wide centre console doesn't suit, you can have a narrower version, a wrap-around cuddy or go completely open and tiller steer.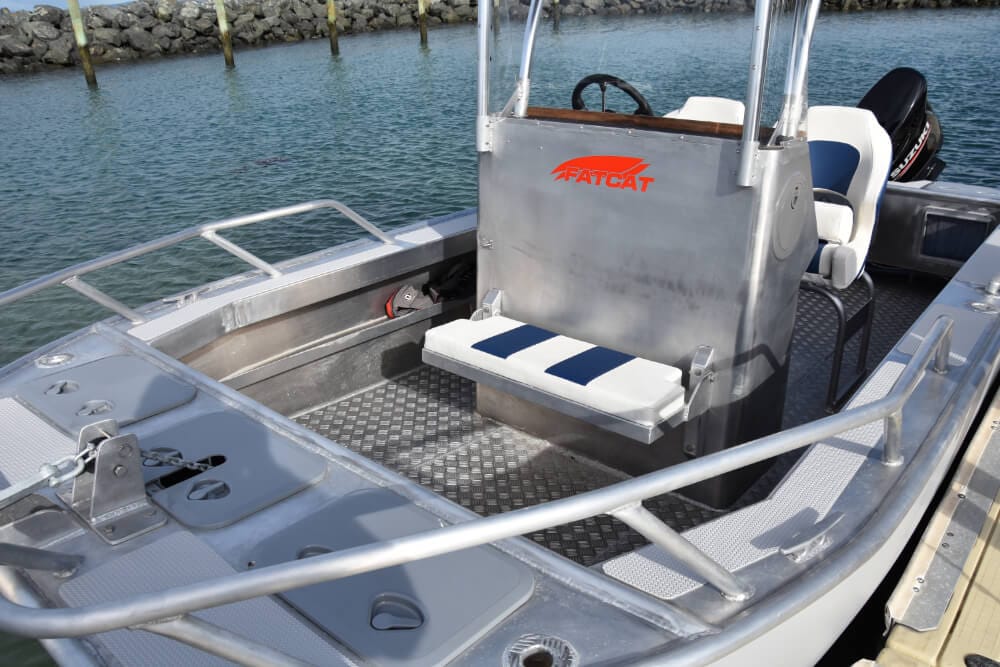 Fishing Platform
The Fat Cat 5000 cockpit is a massive 7sqm of workable space, which probably compares to a 6m-6.5m conventional monohull. It may be 5.2m long, but it certainly seems a lot bigger when you're aboard. A perfect fishing platform for you and a few mates.
Being the pre-production model, Blair was keen to trial a few of his ideas. One is the low aft coamings have wide side decks that have been fitted with drop-in side rails, which lean outward when the space is used for sitting and can be lifted and turned around to slope inwards when you are standing to fish and want more support. He points out that the coaming heights will probably be raised in the production model.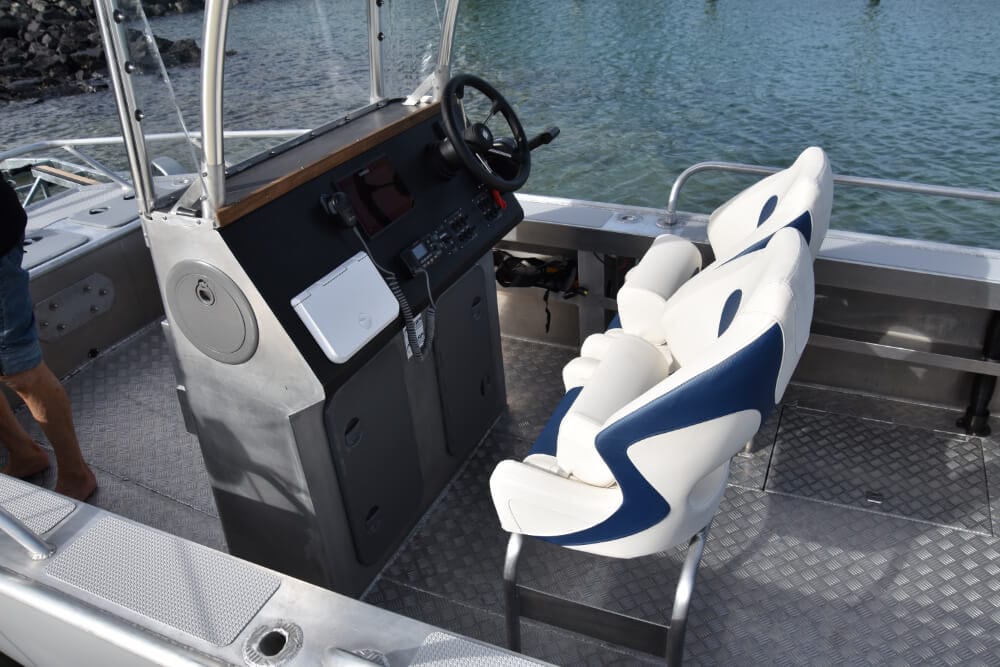 Across the transom is the usual lockers, battery storage and live bait tank, plus a removable bait station. There is the option of a full-width seat across the transom.
In boat #1, the centre console has purposely built extra wide as that is what the client wanted. However, access either side is still okay. Blair says a narrower version is available, which still allows for a load of electronics and controls.
Helm seating will be the owners choice, and in our boat, we had a pair of BLA bolster seats on an alloy frame. In future, the tote tanks will be housed under the seats. There's also another fold-down bench seat ahead of the console. The forward area will see significant changes in the production model with raised access to the foredeck area.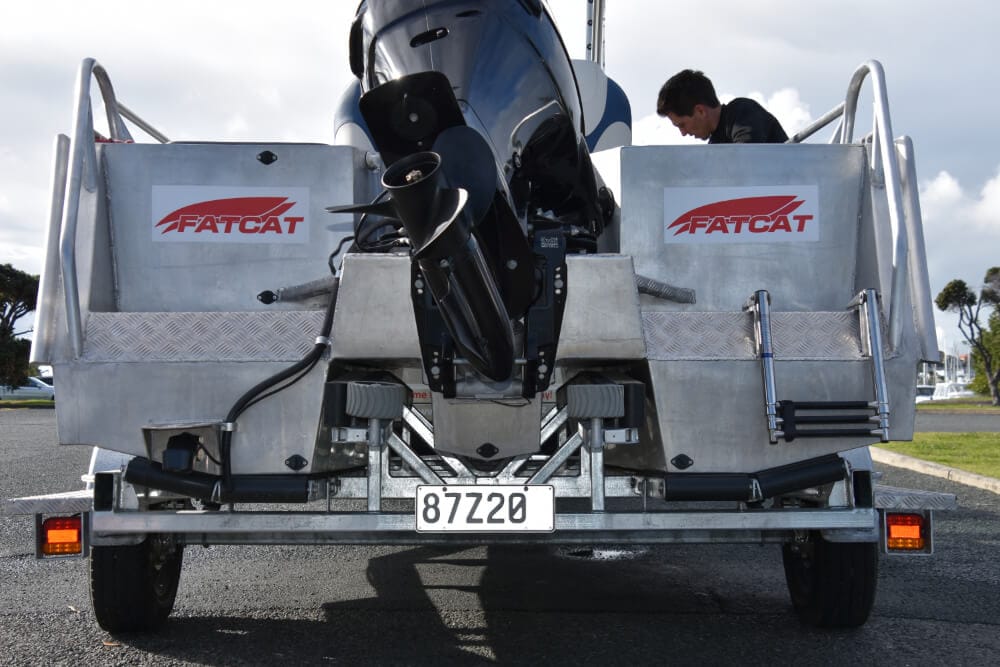 "The layout is very much going to be owner-driven, which is something that is not so easy when you are building in polyethelene", says Blair.
The Fat Cat 5000 is the right boat for anyone looking for an ultra-stable fishing platform with exceptional space available for its size.
"There are other power cats on the market, but I feel our flat self-draining floor, and the space we offer is different, as is the hull shape", says Blair.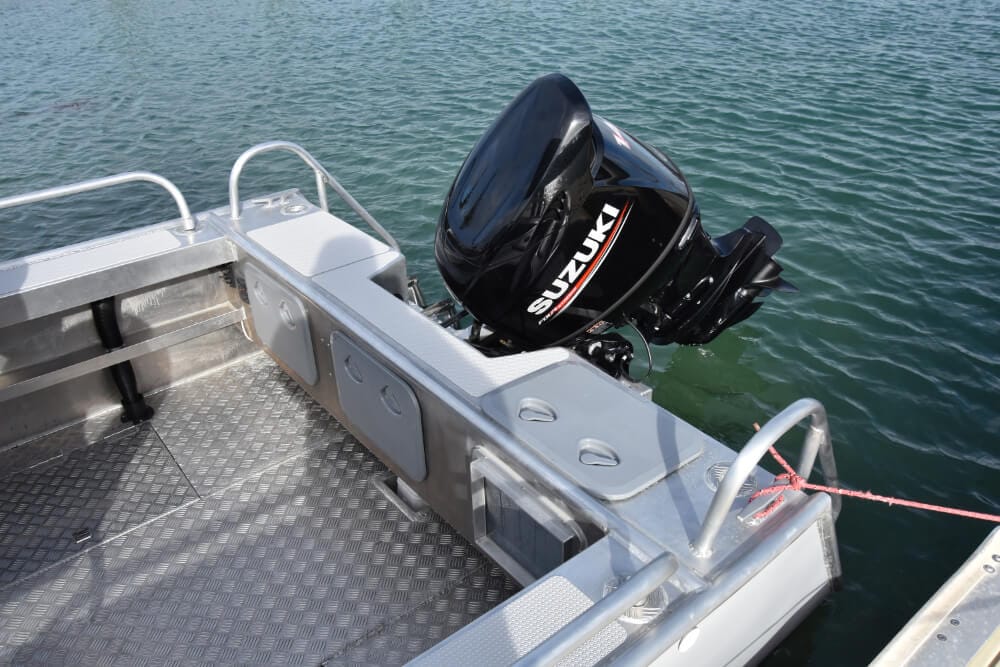 Specifications
Boat Design Name: Fat Cat 5000
Builder: Tekam Marine
LOA: 5.25m
Beam: 2.30m
Construction: Aluminium 4mm/3mm
Trailerable Weight: 1500 kgs
Fuel Capacity: Tote Tanks
Engine: Suzuki 140
Propeller: 19" 3bld Alloy
Power Options: 80-140hp
Max Speed: 33 knots
MFD: Simrad
Winch: Maxwell Drum
Priced From: POA